The Westside Cincinnati Chiropractor
For Your Health!
Have you wondered what chiropractic care can do for your family?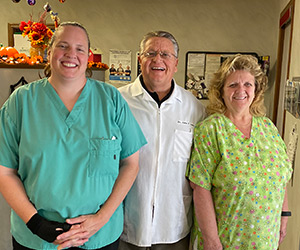 Would you like to learn more about chiropractic? How do you find a Chiropractor willing to explain everything in advance? What's the best way to choose a chiropractor in the Cincinnati-area?
Simply ask the readers of the Community Press! Dr. John P. Jones has won the "Community Press Reader's Choice Award" for Chiropractors in his community this year. This is an annual audit of favorite Doctors in the area, and this is the second year he has been listed in the Top Three.
Chiropractic is safe, natural and effective. But not all chiropractors are the same! In addition to the traditional approaches to chiropractic, we also offer Spinal Decompression in our office.
DTS Spinal Decompression Therapy is a leading non-surgical alternative to surgery. It is a pain-free solution that has shown a very high rate of successfully reducing or even eliminating back or neck pain. In as few as 12 treatments, you may have relief of chronic debilitating low back or neck pain.
Call Delhi Chiropractic Associates today!
Can our unique approach to chiropractic help you? With 32 years of experience, we've helped many Cincinnati-area residents who went from chiropractor to chiropractor and finally found results in our office. Dr. John P. Jones is excited to hear from you! Call today!
Dr. John P. Jones | Cincinnati Chiropractor | Phone: (513) 451-1115